Mediterraneamente is the summer board that we all need! Unfortunately, as says the name, this board in our Meaditerranean sea is perfect every day of the year. With an outline with parallel rails and a wide nose and tail, make this board a fun toy for every kind of waves. Easy to paddle and fast to accelerate! You can't ask much more at the most enjoyable board of your quiver!

Price starts from 365€.
Ride it 2-3 inch shorter than your height.
5'6" x 19"1/4 x 2"3/8 27,6 vol.
5'7" x 19"1/2 x 2"7/16 29,2 vol.
5'8" x 19"3/4 x 2"1/2 31 vol.
5'9" x 20" x 2"9/16 32,4 vol.
5'10" x 20"1/4 x 2"5/8 34,1 vol.
Or choose your own dimensions!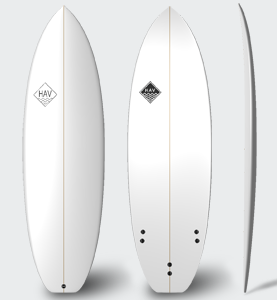 Fins system
Fins setup
Tail
Design