The space project wants to be an hybrid between a funboard and a shortboard. The volume is moved a little bit forward for an easy entry in the wave but the rocker is more aggressive for the steeper drops. The thumb tail helps maintaining tail area for an early acceleration but at the same time extend the rails for more drive. A fast and easy board but maneuverable at the same time. An unbeatable compromise!

Price starts from 365€.
Ride it 1-2 inches shorter than your height.
5'7" x 19" 15/16 x 2"5/16 28,3 vol.
5'8" x 20" x 2"3/8 29,7 vol.
5'9" x 20"3/16 x 2"7/16 31,1 vol.
5'10" x 20"5/16 x 2"1/2 32,5 vol.
5'11" x 20" 7/16 x 2"9/16 34,1 vol.
Or choose your own dimensions !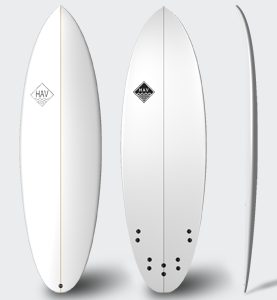 Fins system
Fins setup
Tail
Design