Paddle Power is a shortboards with a bit of added width under the chest to paddle strong in critics conditions, both big and small! The round tail provides drive and his continuous and heavy rocker will works perfect in steep waves. Paddle power is a board designed as an all-round for surf trips in quality waves. It is advisable to choose this board with the thruster+quad set-up.

Price starts from 365€.
Ride it 1-2 inches hihger than your height.
5'8" x 18"1/2 x 2"3/16 24,4 vol.
5'9" x 18"3/4 x 2"1/4 25,5 vol.
5'10" x 19" x 2"5/16 27 vol.
5'11" x 19" 1/4 x 2"3/8 28,2 vol.
6'0" x 19" 1/2 x 2"7/16 29,4 vol.
Or choose your own dimensions!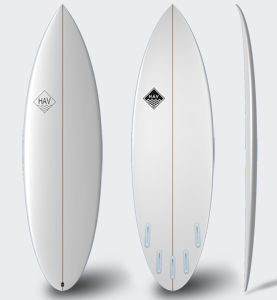 Fins system
Fins setup
Trifin
Quad
Trifin + Quad
Tail
Design
Carbon patch