The Mine is a performance board for weak waves. It combines the nose of a fish, flattish and wide, with the tail of a shortboard, medium rocker and little surface. The merge of the two boards it is found at the end of the side fins and has been done with a winger that gives to the outline a retro feeling. The Mine offers a powerful paddle power and a little surface under your back foot for tight arcs and radical turns.

Price starts from 365€.
Ride it at least 2-3 inches longer than your height.
5'4" x 19" 3/4 x 2"7/16 27,4 vol.
5'5" x 20" x 2"1/2 29 vol.
5'6" x 20" 1/4 x 2"9/16 30,5 vol.
5'7" x 20" 1/2 x 2"5/8 31,9 vol.
5'8" x 20" 3/4 x 2"15/16 33,7 vol.
Or choose your own dimensions!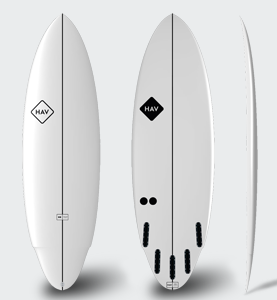 Fins system
Fins setup
Tail
Design