Pukenga is a standard shortboard for performance waves and surf. Both the outline and the rocker are continuos for a power and flawless surfing. Designed in collaboration with our rider Adri Perarnau.
A deep single concave from the nose to the side fins for maximum lift and speed. A flat transition into the V on the back of the rear fin for smooth and fast rail to rail transitions.
Nose 12" Tail 14"


Price starts from 365€.
Pukenga was designed as 6'0" x18" 1/2 x 2" 1/8 with 26.1 L of volume. Ride it at the same length than your height or an inch smaller..
5'8" 18" 2" vol.22.5
5'10" 18"1/4 2"1/16 vol 24
6'0" 18"1/2 2"1/8 vol. 26.2
6'2" 18" 3/4 2"3/16 27.3 vol.
Or choose your own dimensions !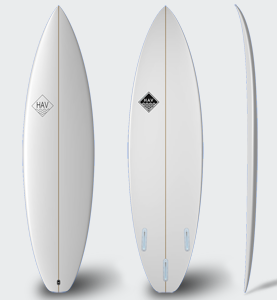 Fins system
Fins setup
Trifin
Quad
Trifin + Quad
Tail
Design
Carbon patch