The Step-HAV isn't the classic Step-HAV. As in the HAV philosophy the volume is moved a little bit forward under the chest for an easy paddle in when is big! A pulled in round-pin for a lot of drive. We want to maintain the volume of your step-up but changing the dimensions in order to can surf with more comfort and fun in waves of consequence. The Quad provides even more drive when necessary reducing even more the risk when the waves are getting bigger. Your big wave session is just became a little less scarier with the Step-HAV.

Price starts from 365€.
The STEP-HAV was designed in 6'1" x 19" 3/8 x 2" 3/8 with 29.7 liters of volume.Ride it at least 1-2 inches longer than your height.
5'11" x 19" 1/4 x 2"1/4 27,2 vol.
6'1" x 19" 3/8 x 2"5/16 vol. 28,4 vol.
6'3" x 19" 1/2 x 2"3/8 30,1 vol.
6'5" x 19" 3/4 x 2"7/16 33,1 vol.
6'11" x 20" 7/16 x 2"9/16 34,1 vol.
Or choose your own dimensions !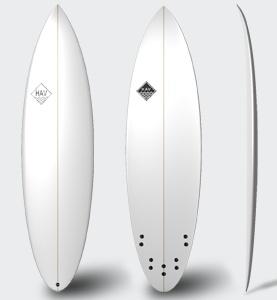 Fins system
Fins setup
Trifin
Quad
Trifin + Quad
Tail
Design
Carbon patch