The Round Evo is a board designed for an easy transition to the shortboard without the shock of a low volume board. Easy paddle in and take off thank to the generous width under your chest. At the same time because of his smooth outline, the Round Evo, will help you for a first approach to the carving. His design, a bit retro, and his medium to low rocker make of this board a desirable mid-length for head high to slightly overhead waves. The suggestion is to ride it as thruster for beginners and as a single fin (with the possibility of stabilizers) if you are looking for a modern mid-length.

Price starts from 365€.
6'0" x 20" 1/2 x 2"5/8 33,8 vol.
6'1" x 20" 3/4 x 2" 11/16 35,2 vol.
6'2" x 21" x 2"3/4 36,7 vol.
6'3" x 21" 1/4 x 2"13/16 39,1 vol.
6'4" x 21" 1/2 x 2"7/8 vol. 40,7 vol.
Or choose your dimensions!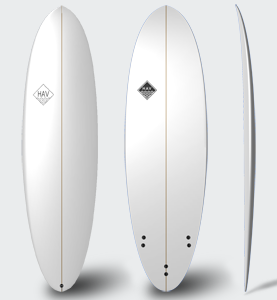 Fins system
Fins setup
Tail
Design