Elipsis is a standard shortboard with something different. The round nose keep the center of gravity slightly backward and with his aggressive rocker on the rails make the Elipsis a perfect board for hollow waves. The rocker in the middle of the board instead is more relaxed thanks to his complex rocker. This combination will allow you to speed up fast when the board is flat but at the same time maintain a very thigh turning arc when putting the board on the rails.

Price starts from 365€.
Ride it 2-3 inch shorter than your height.
5'4" x 18"1/2 x 2"3/16 23,9 vol.
5'5" x 18"3/4 x 2"1/4 25,3 vol.
5'6" x 19" x 2"5/16 26,8 vol.
5'7" x 19" 1/4 x 2"3/8 28,2 vol.
5'8" x 19"1/2 x 2"1/2 30,5 vol.
Or choose your own dimensions !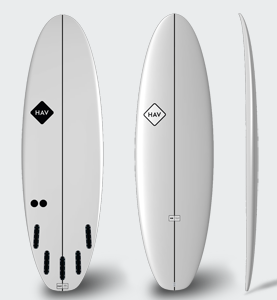 Fins system
Fins setup
Trifin
Quad
Trifin + Quad
Tail
Design
Carbon patch