The Wild Journal is a standard shortboard designed for the girls in collaboration with our rider Eli Melero! It features a 3 stages rocker. A kick in the tail for radical turns , the flatter part under the front foot will allow you to accelerate fast when you need maximum speed. A low to medium rocker in the nose with a added width to maintains good paddle power without compromising stylish surfing.

Price starts from 365€.
Ride it 1 inch shorter than your height.
5'5" x 18" 3/16 x 2"1/16 24 vol.
5'6" x 18" 1/4 x 2"1/8 25,4 vol.
5'7" x 18" 5/16 x 2"3/16 26,6 vol.
5'8" x 18"3/8 x 2"1/4 27,9 vol.
Or choose your own dimensions !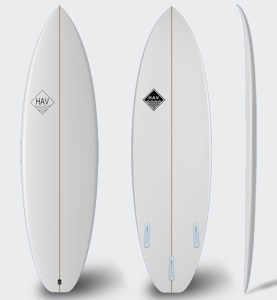 Fins system
Fins setup
Trifin
Quad
Trifin + Quad
Tail
Design
Carbon patch